In a time when the world seems to have stood still, unexpectedly, some things moved forward. Just when we thought all was lost, the opposite happened. Our projects with Builders International continued to moved forward. Thanks to generous donors, committed missionary partners, team leaders, and God's help, the work has continued to grow. Plans are being made to build the very first church of the Hope for Uruguay 100 initiative…CHURCH #1 of 100!
Our goal with Builders International is to help build 100 churches in 10 years throughout Uruguay, which is known as one of the most unevangelized nations in the Americas.
"Hope for Uruguay 100 will bring hope to communities across this secular nation ravaged by drugs and alcohol, legalized abortion, and prostitution. It will provide permanent buildings for established, growing congregations. 
A building adds immense value to a new congregation. It provides a central place within the community for evangelism, discipleship, worship, and fellowship. Needs are met, lives are changed, and families are transformed. A new building also gives the pastor credibility within the community."
– Builders International
---
Meet Pastor Marcelo and his wife Virginia!
Marcelo grew up with eight siblings and a father who was an alcoholic. Chaos, violence, depression, and financial insecurity constantly surrounded his family. Marcelo was always looking for places to go to escape his home.
He lived down the road from an Assemblies of God church. One Saturday evening, as he wandered off from home, he decided to go to the church. That night he attended the children's service. The children's ministry workers displayed a genuine love and concern for him he had never before experienced. This impacted Marcelo, influencing him to go back week after week, until finally he gave his heart to Jesus!
Many years later, Marcelo had the opportunity to lead his father to Christ…just days before his father passed away!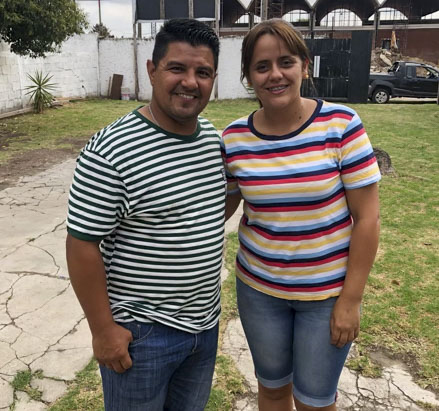 While serving in their local church, he and his wife, Virginia, sensed the call of God to pastoral ministry. They began to prepare through Bible school training in the evenings.
Twelve years later, Marcelo and Virginia pastor a church in the Barrio Flor de Maroñas community of Montevideo, Uruguay. Their church currently meets in a tent, as they await their new building.
Most every night of the week you'll find one of the church groups meeting in the tent, whether it's children, youth, women, men, or everyone together! They meet rain or shine, cold or hot, week in and week out, under the tent on their property. No matter what the temperature is outside, their main concern is the salvation of those in their community!
---
Plans for CHURCH #1 (in Barrio Flor de Maroñas) have begun!
"The plan is for the construction of this church building to be finished by the end of September, so this growing congregation can continue sharing the Gospel with more people in their community.
The first four projects of Hope for Uruguay 100 have already been determined. Each church already has a congregation meeting in a temporary location and a trained pastor. The properties have been purchased and they are ready for construction with the goal of all four buildings being erected by the end of the year."
– Builders International
---
The Victories for the first 4 churches in Uruguay!
A pastor trained and a congregation formed.
Property purchased in the name of the Uruguayan General Council of the Assemblies of God.
Building design completed.
Building permit received
To be a part of building the very first church of the Hope for Uruguay 100 initiative, contact:
Missionary & LAC Project Manager, John Sims . 417-207-5753 . John@buildersintl.org
---
Join our Financial Support Team

Online giving visit: http://bit.ly/giving-sims
To setup recurring monthly giving or a make a one-time gift.
Mail a check to:
Assemblies of God World Missions
1445 N. Boonville Ave.
Springfield, MO 65802
(write "John and Deborah Sims " in memo line)
Giving to Account #243932